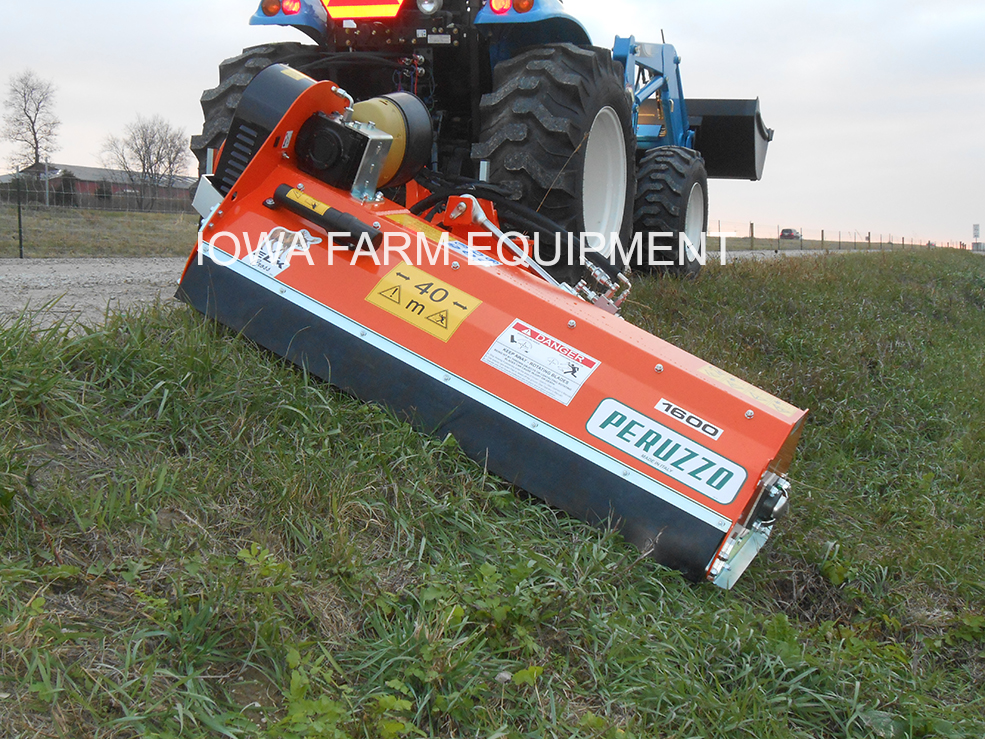 Peruzzo Fox Cross 1200 & 1600 Ditch Bank Mowers, Available in Kubota Orange, John Deere Green & Safety Green
The Peruzzo, Hydraulically Articulated, Ditch Bank Flail Mowers for 18-35 HP Tractors Offer Many Standard Features,
Provide Superior Cuts, and the Safest Operation:
The Offset & Head Positioning Functions Operate Hydraulically On The Fly!
Peruzzo Flail Mowers Are The Safest Mowers Available:
The Possibility of Discharging Dangerous Projectiles is Reduced Dramatically compared to Rotary Mowers!
Peruzzo Flail Mowers Also Are the Easiest for Your Tractors 3-Point to Handle. The Much Shorter Length of the Mower Deck Significantly Reduces the Physical Burden on Your Tractor & 3-Point, Making Mowing, Handling & Transport Much More Stable & Safer for Any Size Tractor, Especially for Compact & Utility Size Tractors!
Peruzzo Flail Mowers Provide a Better Cut than Standard Rotary Mowers, Plus, with the Universal 'Hammer' Blades on this Flail Mower, You Can Cut up to 2" Diameter Material and Get a Very Good Finish Cut, too. To Get the Best Finish Cut, the Hammer Blades Must be as Sharp as Possible (Which Can be Done with an Angle Grinder). To Get the Maximum Cutting Capacity of 2", Your Tractor Will Need to Have the Maximum Recommended HP.
Multiple Advantages of This Articulated, Offsetable Mower Over Static, Center Mounted, or Offset 3-Point Mowers:

If you are Mowing Along a Fenceline, Treeline, Building, etc., Instead of Getting Your Entire Tractor Along the Side of the Fence or Building (and Risk Scraping Your Tractor Tires or Snagging & Damaging Trees, Posts, Fencing, Buildings, etc.), You Can Simply Keep the Tractor on a Straight Path and Manuever the Mower In & Out Instead! This Reduces the Risk of Scraping Your Tractor Tires or Snagging & Damaging Trees, Posts, Fencing, Buildings, etc. Snagging Posts, Trees or Other Secured Objects Can Also Damage the 3-Point Linkage on the Mower or Even the Pull Arms & Top Link of Your Tractor.
Much, Much Better Visibility: If the Edge of Any Mower is Flush with the Sidewall of Your Tractors Tire, Forget About Visibility! You Will be Cutting with Your Tractor Tire as a 'Guide', Which is OK in Open Areas, but Again, When You are Mowing Up Against Obstacles, You Want Visibility, and the Offset Feature will Provide That. Since this Mower Offsets so Much (Up to 60"), Visibility at the Far End of the Mower Head Won't Require that You Make a Twisted Donut Out of Your Body to See It and Helps Ensure a Safe and Accurate Cut!

The Fox Cross Series Ditch Bank Flail Mowers are Equipped with a Rear Roller to Suspend the Weight of the Mower, and to Also Provide Cutting Height Adjustments, and is Ideal for a Wide Range of Applications, Such as: General Finish & Rough Cut Mowing, Ditch Bank Mowing, Tree & Fence Line Mowing, Mowing Next to Buildings/Structures, Solar Array Site Mowing, Produce/Vegetable Residue Pulverizing/Chopping, Orchard & Vineyard Pruning Mowing, Vertical Hedge Type Trimming & Much, Much More!
NOTE: Both Models (1200 &1600) Ship Factory Assembled & Ready To Use! This Means No Assembly Headaches From Poor Instructions, No Missing Parts & Associated Delays, No Special Tools, No Knuckle Busters & No Waiting Until It's Assembled Before First Use! The 1600 Model Ships Assembled & Secured To a Substantial Steel Crate, Which Is Attached To a Substantial Wooden Pallet, Both Of Which Can Be Saved & Used As a Storage Stand For The Mower, Keeping it Out Of Dirt & Making it Easy To Move Around!