Valentini Leopard Series 3-Point Power Harrows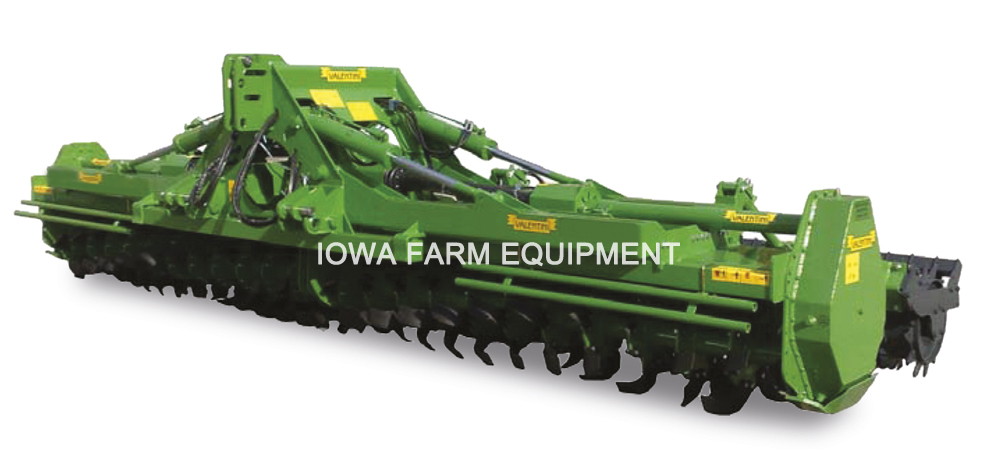 Leopard Series Folding Tiller Shown with Optional Cage Roller.
'LEOPARD' SERIES FOLDING POWER HARROWS FOR 100-180HP(PTO) TRACTORS
As with ALL Valentini Power Harrows, the Leopard Series Is Quick-Hitch Compatible, and has been providing Excellent Soil Conditioning & Seed Bed Preparation in all types of soils - without inverting the soil, leaving nutrients on the top layer, leaving weed seeds deep & dormant, and not inverting moist substructure soils, preventing unwanted loss of moisture! The results have been proven in applications varying from Agricultural Use, to Construction Applications, to Landscaping Services, and in some of the most unconventional settings, Valentini has proven to have Bullet Proof Reliability, while producing Excellent Results in one pass! Whether your ground conditions have Standing Vegetation, or Imbedded Residue, Rocks, Stones or Hard Dirt Clods, expect to get the results you want with Valentini Power Harrows.
STANDARD FEATURES
Quick Hitch Compatible, Cat 2, 3-Point Hitch.
1000RPM Large Sump Gearbox.
2 Way Cylinders for Hydraulic Folding & Opening of Power Harrow Sections.
Two Blades Per Rotor.
9" Spacing Between Rotors Provides Highest Population of Blades.
Heated Treated, Ulta-Hardened Central & Side Gears, and Blade Holders.
Oil Bath Transmission (Top Drive Enclosure) & Gear Box.
Side Skirts for Containment are adjustable.
Unique & Patented Labyrinth Seals Ensure Bearings are Protected from Dirt!
Manually Adjusted Rear Rollers (working depth) via Rear Corner Pin-Adjustments.

Optional Adjustment Methods.

Manual Hand Crank or Hydraulic Adjusting Kit for Infinite Travel Adjustment.

Safety Guards.


Leopard 3600 Folding Tiller Shown with Optional Packer Roller
Accessories


FRONT CORNER PLOW SHARES
Enables deeper penetration of Side Plates.
(Plate style is effective with high crop residue)


FRONT CORNER DISCS
Enables deeper penetration of Side Plates.


TIRE TRACK ERADICATOR
OPTIONAL REAR ROLLERS
Provides Superior Working Depth Adjustment & Soil Conditioning.
Available with Manual or Hydraulic Adjustment.


CAGE ROLLER
Shown on Z-Series Tiller w/Hyd. Depth Adjustment
Also Shown in Second Video Above


SPIRAL ROLLER
Shown on Maxi-D Power Harrow with Hydraulic Depth Adjustment


PACKER ROLLER
Shown on A-Series Tiller w/Manual Depth Adjustment
Also Shown in First Video Above


BASKET ROLLER
Shown on U-Series Tiller w/Manual Depth Adjustment


SMOOTH ROLLER

Additional Rollers Available (photos not available):

Smooth Roller
Blade Roller
Spike Roller
Toothed Roller
LEOPARD SERIES POWER HARROW SPECIFICATIONS

MODEL

3200

3600

4000

4600

5000

Tractor Horsepower Required
100 - 180 HP
110 - 180 HP
120 - 180 HP
140 - 180 HP
150 - 180 HP
Rotor
298 RPM
Working Width
129"
146"
167"
181"
198"
Overall Width
131"
149"
166"
183"
201"
Number of Blades
28
32
36
40
44
Working Depth
11"
Weight with Packer Roller
3,206 lbs.
3,637 lbs.
4,068 lbs.
4,497 lbs.
4,928 lbs.
Weights are Less Pallets, Crates & PTO Shaft.
Specifications & Designs Are Subject to Change Without Notice