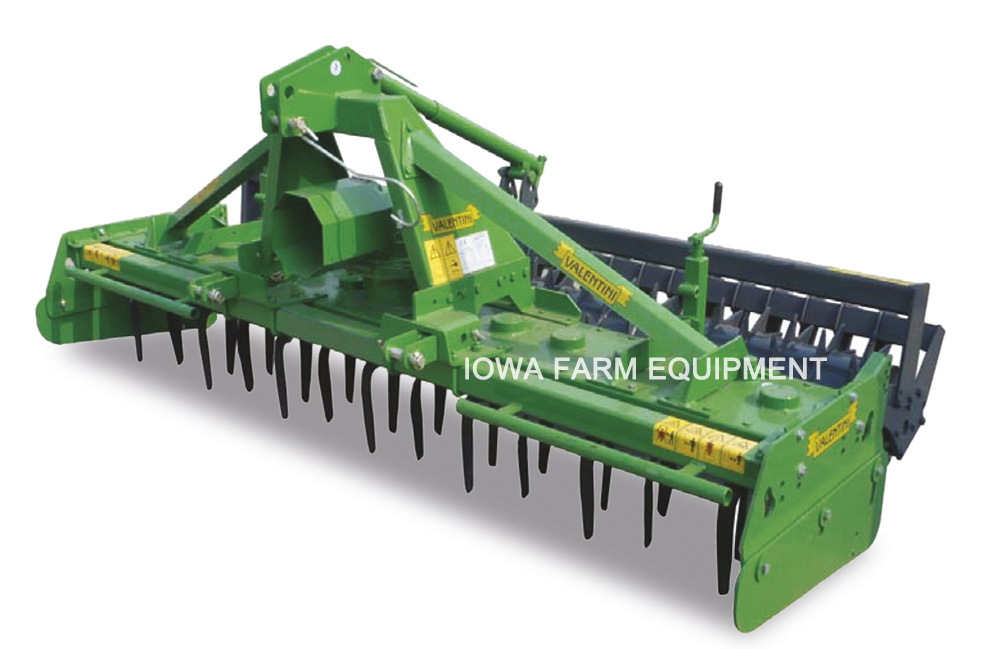 'PRINCE' SERIES POWER HARROWS FOR 60-120HP(PTO) TRACTORS
As with ALL Valentini Power Harrows, the Prince Series Is Quick-Hitch Compatible, and has been providing Excellent Soil Conditioning & Seed Bed Preparation in all types of soils - without inverting the soil, leaving nutrients on the top layer, leaving weed seeds deep & dormant, and not inverting moist substructure soils, preventing unwanted loss of moisture! The results have been proven in applications varying from Agricultural Use, to Construction Applications, to Landscaping Services, and in some of the most unconventional settings, Valentini has proven to have Bullet Proof Reliability, while producing Excellent Results in one pass! Whether your ground conditions have Standing Vegetation, or Imbedded Residue, Rocks, Stones or Hard Dirt Clods, expect to get the results you want with Valentini Power Harrows.
STANDARD FEATURES
Quick Hitch Compatible, Cat 1&2, 3-Point Hitch.
540RPM Large Sump Gearbox.
Two Blades Per Rotor.
9" Spacing Between Rotors Provides Highest Population of Blades.
Heated Tread, Ultra-Hardened Central & Side Gears, aand Blade Holders.
Oil Bath Transmission (Top Drive Enclosure) & Gear Box.
Side Skirts for Containment are adjustable.
Unique & Patented Labyrinth Seals Ensure Bearings are Protected from Dirt!
Manually Adjusted Rear Rollers (working depth) via Rear Corner Pin-Adjustments.

Optional Adjustment Methods

Manual Hard Crank or Hydraulic Adjusting Kit for Infinite Travel Adjustment

Safety Guards.