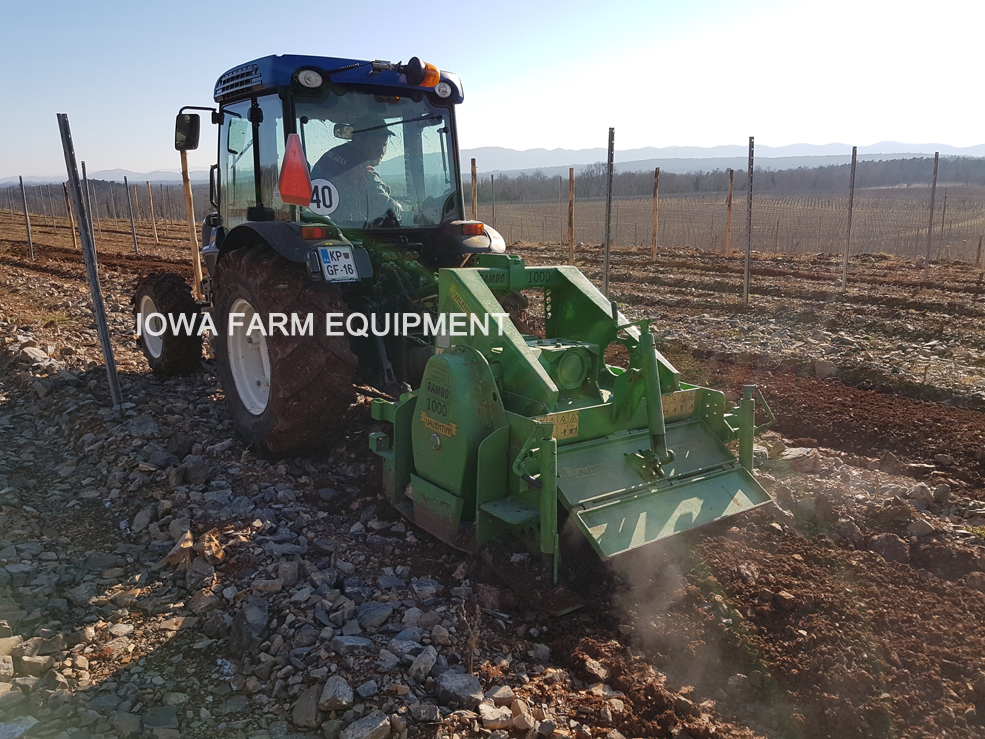 RAMBO SERIES STONE CRUSHERS FOR 100-230HP TRACTORS
As with ALL Valentini Crushers, the Rambo Series has been providing Superior Single Pass Results in All Applications: Land Reclamation, Agriculture (row crop fields, produce rows, pastures, seed bed preparation, horticultural benches & rows, vineyards, orchards, groves, etc.), Roadway Maintenance & Paving (gravel & chip seal roads, asphalt roads & highways), as well as Rough or Finish Grading in Pre & Post Construction applications. From Rock & Stone Crushing, Stump Mulching, Soil Shredding, to Soil Stabilization, and Asphalt Pulverizing/Grinding, Valentini Crushers have been CRUSHING IT for decades!!! In the sample videos below, you'll see evidence of the Superior Single Pass performance, even shaving tops off of the outcroppings of embedded boulders, even at work crushing & pulverizing Limestone, which second to Granite, can have the highest psi requirement for crushing, and the Valentini Crusher is shaving those Limestone Boulders!
STANDARD FEATURES:
Category 2, 3-Point Hitch.
Shear Bolt Protected Main PTO Shaft

Dual Transmission Models have Slip Clutch Protected Side Drive Shafts.

Crushers 'Diminishing Chamber' is Comprised of the Following:

Front Shear Bar Provides First Mechanical Contact for Reducing Fragments.
Rear Hardox Grid Provides Secondary Contact for Further Framentary Reduction.
Hydraulically Controlled Rear Containment Door Controls Duration Fragments Remain in Chamber.

Containment Door Constructed for Extreme Service Duty & Wear Resistance.

Crusher Body Internal Hardox Lining is Replaceable.

Hydraulically Controlled Front Opening Gate & Deflectors for Infinite Adjustment.

Keep Front Gate Closed for Max Deflector use, or Open For Max Working Depth.

Extreme Service Duty Rotor is Shock & Wear Resistant.
25" Rotor Working Diameter, Tip to Tip.
1" Diameter Tooth Shanks & Holders.

Tooth 'Holders' are Welded to the Rotor
Teeth are Fixed in Holders with Snap Rings for Easy Service!

Central & Side Gear Drives in Oil Bath Gearboxes

Single Transmission Units Have Oil Bath Bearing Enclosures for Non-Drive Side.
Dual Transmission Units have Oil Bath Gearboxes on Both Sides

Unique & Patented Labyrinth Seals Ensure Bearings are Protected from Dirt!
Hydraulically Adjusted Rear Skid Shoes.
Safety Covers & Guards.