Bull 2800 (9'-2") 3-Point Offsetable Flail Mower, Center Position

Bull 2800 (9'-2") 3-Point Offsetable Flail Mower, Offset to Right
Heavy Duty Professional Series Bull Front or Rear Mounted Flail Mowers for 40 to 140HP Tractors.
The BULL Offsetable Shredding Flail Mower is Available in a Wide Range of Working Sizes, and it's Universal Capability Makes it Suitable for ANY Application! With its Large, Forged & Hardened, Heavy Duty Hammer Blades, the Bull is Perfect for the Most Demanding Applications; Mulching & Shredding Thick Stands of ANY Vegetation, from Cactus to the Mighty Phragmites, from Thick, Tall Stands of Canary Grasses, to 4"-5" Diameter Trees! It is commonly Used in Vineyards, Orchards, Groves, and Other Agricultural Applications to Reduce & Pulverize Branches & Pruning's in Aisleway's, as well as Grooming Aisleway Grasses.
The Bull's Universal Capability Also Makes it Perfect for Routine Manicuring Applications, Providing Level & Aesthetically Pleasing Appearances in Open Fields & Pastures, Commercial or Private Roadside & Median Mowing, Trail & Fire Break Maintenance, Maintenance of Airport Runways with Grass Landing Strips, Parks, Recreational Fields, and Various Other Large Areas of Turf & Greenspaces. With the Hydraulic Offsetting Capability, the Bull Provides Safety & Efficiency When Mowing Near Obstacles, Tree Lines, Fence Rows, Buildings, Ponds, Lakes, Waterways, etc., Eliminating the Need to Weave the Tractor In & Out to Achieve Desired Results, Minimizing Inadvertent Contact with Fixed Objects, or Encroachment Into Wet Soils – Preventing Property Loss, Reducing Operator Stress, and Efficiently Providing Desirable Results! It's Wider Cutting Widths, and Horizontal Offsetting Capabilities Ensure the Tractors Rear Tire Tracks are Within the Cutting Footprint, Providing the Best Grooming Results. All of These Excellent Features Are Complimented With the Renowned Safety Of Peruzzo Flail Mowers!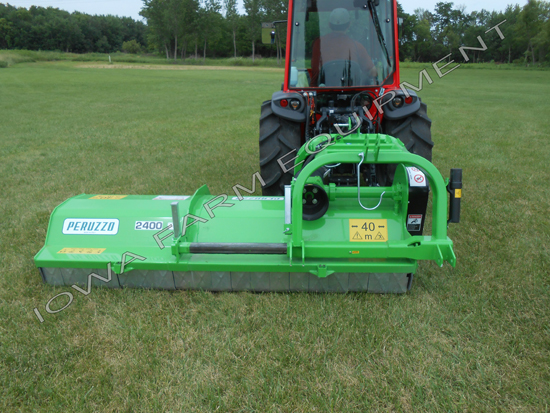 Bull 2400 (8') Double Hitch, Front or Rear 3-Point Offsetable Flail Mower,
Offset to Left

Bull 2400 (8') Double Hitch, Front or Rear 3-Point Offsetable Flail Mower,
Offset to Left

Rotor & Hammer Details
Customer Testimonial:
"Thank you for the Perruzzo Side Trimmer, I used it today on 2 acres of blueberries and it worked well like I had hoped, well designed machine. Thanks also for the help in getting it here." ~ Satisfied Customer, NH

Bull Shown with Side Trim Mower